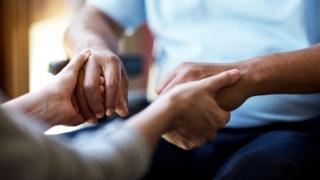 The use of do-not-attempt-resuscitate (DNAR) orders is to be reviewed after a number were wrongly applied in care homes at the start of the pandemic.
The Care Quality Commission (CQC) will investigate concerns that some care homes still have blanket orders in place covering groups of residents.
It became clear that blanket use was in place in some care homes in the early weeks of the pandemic.
But it was widely condemned by the CQC and medical bodies.
Covid: Care homes policies violated human rights, says Amnesty
Families not told about 'do not resuscitate' orders
'I don't want to be resuscitated at all'
The decision about whether or not to attempt resuscitation if a very sick person falls dangerously ill is supposed to be discussed with the individual, or family members if they are too sick.
Doctors can make a decision on the spot without consultation
…
Read More